Accessories
We have added here a number of accessory items which would help to complete your Club 500 model ready for the water.
Oiling Tube
In addition you may wish to add an oiling tube to your prop shaft so that lubrication can be done in situ rather than removing the prop shaft. We can supply a purpose made item as below which is epoxied in place on the tube, remove shaft then drill through with a 3/32" drill, add silicone tube to lubricate with a syringe (not supplied).
Price £5.25 + £2.50 p & p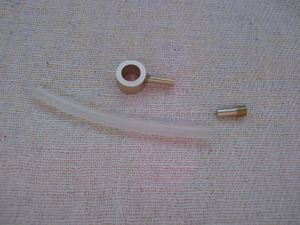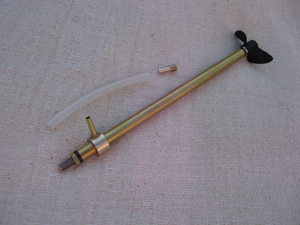 | | UK Unit Price | UK Post & Packing | |
| --- | --- | --- | --- |
| Oiling Tube | £5.25 | £2.50 | |
Solid Brass Alignment Tool
This has been specially made for the Club 500 which makes easy and accurate shaft to motor alignment, so important to get right if you wish to obtain the best performance possible. Once you have installed and glued the shaft and tube aligned with the motor using this, just remove and replace with your coupling and your ready to go.
Price £5.50 plus £2.50 p&p
Tools can also now be made for any application, please contact us for a quotation.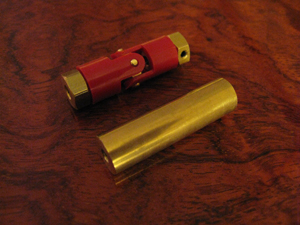 | | UK Unit Price | UK Post & Packing | |
| --- | --- | --- | --- |
| Solid Brass Alignment Tool | £5.50 | £2.50 | |
Plastic Frame & Cover
We had this made by laser to assist in cutting a waterproof access hatch when assembling a new kit, which can be a little tricky to get right. This would not be suitable for models already made and cut out. First you fix in the frame from the top using an adhesive or sealant, being sure to clean up the inner edge of the frame before it sets or fully cures. Next cut out your access hole leaving about 3mm inside the frame to act as a ledge for the cover to sit upon. Tape the cover down and your watertight. ( In the photos the cover and frame look green but this is just a protective film on the clear plastic.)
Price &pound5.50 plus &pound2.50 p&p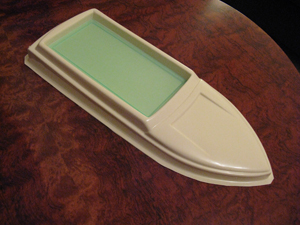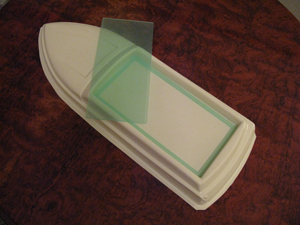 | | UK Unit Price | UK Post & Packing | |
| --- | --- | --- | --- |
| Plastic Frame & Cover | £5.50 | £2.50 | |