About Club 500
Model Specifications:
Length: 515mm
Beam: 180mm
Weight incl R/C: 1.6kg
Kit review by Dave Brumstead in Model Boats May 2000
Suitable for advanced beginners
Moulded in high impact styrene Club 500 is intended to offer a low cost medium speed boat suitable for general use or for one-class club racing. Everything to build the basic model is supplied - including propeller, propeller shaft, rudder/tiller, 550 motor, coupling and window decals. The rear spoiler can be installed in either of two positions thus providing a choice of appearance.
Colours available: Red, Yellow, Green. Blue, Purple, White, Orange, Black, Cream, Silver/Grey and Bright/Silver. The standard kit as supplied before had a white hull with the chosen colour of top however all colour models will now be available if required . Club 500 is a 'no frills' kit, available direct from this website.
Click here for Spare Parts List
Additional items required: A good pair of scissors; a modelling knife; coarse sandpaper and rubbing block; masking tape; a small round file; pliers; double-sided sticky pads and elastic bands. Two part epoxy can be used, to bond the hull and deck together Soudal Fix-All crystal can be highly recommended being successfully used by a number of local club members. A two-channel radio control system using either a servo operated speed control, or micro switch to motor control (or an electronic speed controller minimum 15 amps continuous rating); 7.2 Nimh pack ( buggy type ) battery and battery charger.
Following are Basic Club 500 Racing Rules:
Any course and race duration may be envisaged and designed to the club's requirements.
No alterations to the model shall be allowed, i.e. original motor, coupling etc. No 'hot' motor or different propeller. No motor alterations.
No modifications to below water line.
Ordinary 2-channel radio using either an electronic speed control or servo operated control, or micro switch to motor control.
Nickel Metal Hydride 7.2V battery pack
Buoyancy may be added i.e. airbags.
Above rules are, of course, implemented if used for Club 500 racing - this will ensure that all competitors are equal and that fair racing ensues. These fun boats are raced by a number of clubs in the UK and Germany.
Oiling tube may be added if required.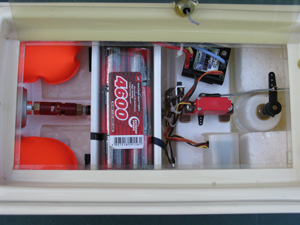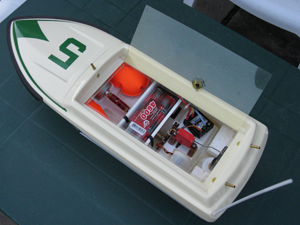 A typical installation